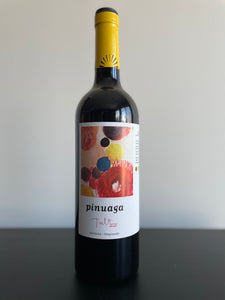 Type: Red

Vintage: 2020
Grape: Grenache, Cencibel (local name for Tempranillo)
Country: Spain
Appellation: IGP Castilla
From Bodegas Pinuaga's new line of unoaked wines, to emphasize the crisp and lively fruits of their vineyards. The team describes them as "ideal wines for the entire range of wine aficionados, due to their easy approach and flexibility at the table".
This wine comes from a single vineyard of 5 ha of Grenache and 3 ha of old,
Tempranillo clones called Cencibel locally. This special clone produces smaller grapes with very soft and silky skins and has a much longer ripening period. The vineyards are located at an altitude of 800m, and are planted with bush vines (gobelets) at a low density of 2,200 vines per hectare.
After harvesting manually in early September 2020, the grapes were de-stemmed and crushed to obtain maximum extraction, before fermentation with indigenous yeasts in stainless steel tanks of 10.000 liters.
A fun wine that is certified organic and should be enjoyed young, while expressive and fruity. Great with all sorts of salads, tapas, pintxos and barbequed meats. The labels are beautifully designed by a Spanish artist living in Speyer, Germany.